NexGenDesal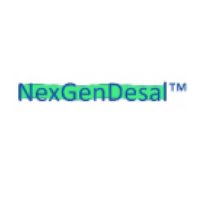 NexGenDesal
CAP Holdings Co., LLC is a water and energy technology innovator whose primary business is renewable energy-powered seawater desalination. NexGenDesal™ is a modular, scalable, renewably-powered reverse osmosis seawater desalination system that achieves the industry's lowest power consumption and carbon footprint.
Secondarily, the company's portfolio of a dozen advanced water and renewable energy technologies, mostly co-developed with National Labs in the U.S. and Eastern Europe, are being exploited through commercialization joint ventures and licensing.
Almost $18 million was invested in R&D over a period of years, from bench scale through numerous pilots, culminating with a commercial-scale demonstration plant which not only exceeded its performance goal for energy consumption, it ran for over 10,000 failure-free hours. Seeking capital to support commercialization.
SEAWATER DESALINATION COMPANY
US$ 10 MILLION EQUITY ROUND
MARKET ADDRESSED:
SAFE, SECURE, SUSTAINABLE. COMMUNITY-BASED WATER SUPPLIES
The company addresses the market for 4-20 K cubic meters/day of potable water (1-5M gallons) produced from seawater. Greenfield developments, small towns, and large cities (using multiple plants) can be served by this system. Initial focus is on the Middle East, North Africa, Mexico, the Caribbean, and the Mediterranean Islands (i.e., the most rapidly growing markets for seawater desalination). Joint Ventures with well-placed Affiliates in each of these territories has produced a pipeline of potential projects that currently exceeds US$860M in equipment sales and US$185M in annual water sales.
ENABLING TECHNOLOGY:
NEXGENDESAL™ SYSTEM
The NexGenDesal System has been independently verified as having the lowest Specific Power Consumption and the smallest Carbon Footprint of any seawater desalination system currently on offer, while its horizontal intake wells, and chemical free, low concentration brine are the most environmentally sustainable intake and outfall systems currently available and comply with the newest amendments to the California Ocean Plan. This standardized, modularized, scalable, factory tested, lights-out operable system with predictive diagnostics can produce Scale Economies that effectively compete with current Mega-scale plants on CapEx, OpEx and the Cost-of-Money.

"As compared to conventional state-of-the-art seawater pretreatment systems, the [NexGenDesal] plants have the following key advantages:
● 20-40 % Lower Overall Costs of Water Production;
● 25-40 % Lower Energy Use (2.1 to 2.6 kWh/m³ vs. 3.5 kWh/m³ or more) . . . "
Independent Experts Report - Water Globe Consulting, LLC

BUSINESS MODEL:
BUILD/OWN/OPERATE (BOO)
To overcome political and cultural resistance to foreign ownership of water infrastructure, in foreign markets the company pursues the BOO Model primarily through Joint Ventures with respected and well-placed Affiliates. This model produces several revenue streams for the company including revenue from water sales to public and private customers ("Offtakers"), and NexGenDesal™ System sales, Operation & Maintenance Support fees, and Spares sales to the Joint Ventures.
RESEARCH & DEVELOPMENT PROFIT CENTER:
MINING VALUE FROM ANCILLARY FIELDS-OF-USE
The technologies developed by the company for its NexGenDesal™ System (and too be developed for future systems) have commercial value in fields other than seawater desalination (aka Ancillary Fields-of-Use). Through its Technology Sponsorship Program, the company partners with firms able to exploit these technologies in Ancillary Fields-of-Use, and receives development/engineering fees and ongoing royalties (or similar revenues) thereby transforming R&D from an expense center to a profit center.
EXPERIENCED MANAGEMENT:
NETWORKED TO EQUALLY TALENTED TEAMS THROUGHOUT THE WORLD
The Company Founders have over 85 years of combined experience in technology development, defense technology conversion, international marketing, and the water market. This expertise is enhanced by their cooperative engagement with scientists, engineers, and government and university labs throughout the world, all of whom are dedicated to delivering the best technology available to the desalination process.