MemTech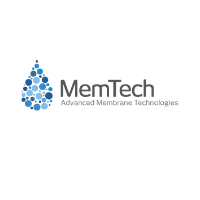 MemTech is a game changer company that has developed a portfolio of breakthrough polymeric UF and NF membranes.
The R&D is being done in cooperation with the Technion (the Israel Institute of Technology), Arkema, the largest polymer producer in the world, Mekorot, the Israeli national water carrier, and Groupe SEB. ABB USA Process Automation is joining MemTech in supporting the engineering aspects of planned projects in North America.
The ultrafiltration membrane is 10 times more hydrophilic, has much better acidity resistance and has an electrically charged surface. These features benefit the user by providing a high flux UF membrane with a small footprint, high selectivity for specific minerals, lower fouling and highly customized product per client's needs.
Applications:
Waste Water Tertiary Treatment-
Point of Use Systems: Military/Emergency and Household Tap Water
Food and Beverage
Oil and Gas
Seawater RO Pre-Treatment
Surface Water Treatment
The Company's polymer enables high flux through its membranes at low pressure, for a clear competitive advantage:
Less membrane area - smaller footprint
Less pressure needed- reduced energy usage
Lower OpEx and lower CapEx