BrighTap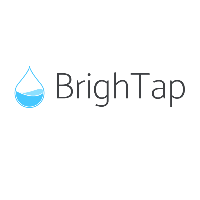 BrighTap (previously Bwareit) Israeli Startup that develops BrighTap water meter module and WADP - Water quality and consumption analytic data platform (includes app and web services).
BrighTap IOT water meter can be standalone device attached to any standard water tap, pipe or hose and transforms them to a Smart device.
Additionally, BrighTap module can be OEM to any device (Tab, Refrigerator, water Bar). BwareIT combines unique and in-house developed analytic algorithm and turbine technology that meters water flow, with accuracy +/- 4%.
The purpose of BrighTapr is to inform in real time the water quality and help the user to reduce his water bills.
BrighTap provides water quality and consumed water quantities data (water quality index, liters/gallons, temperature, costs, etc.) at any given moment in a simple and clear way on the product's display.
The data can be tracked via Data services. The target is to increase water consumption and water quality awareness all over households and organizations.