Rudolf Ball, Entrepreneur & CEO | Creating SaaS Solutions for Water Utilities -> WATERLOO.io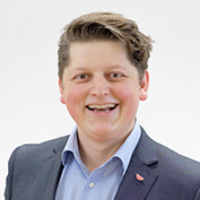 I am that person that can kick-start an idea in an explosive, positive and thought-provoking way. The famous German writer Hermann Hesse once wrote, " Jedem Anfang wohnt ein Zauber inne " ("A magic dwells in each beginning"), and this is a concept that has fascinated me for more than 10 years now: how something great can be created from a tiny seed of an idea.
I started creating businesses 10 years ago. Creating a business, growing it, is a wonderful thing; and I do it with all the passion in the world.
As an entrepreneur, founder and CEO, my greatest strength is my ability to grow ideas, form business models around them and inspire teams, partners and customers to grow together. I am a software man and believe firmly that great software can change the world .
I believe that life is like an oven: you have to put in wood and fire, and then, after a while, heat will come out. You cannot tell the oven: heat me, and then I will give you wood. This is how I do business: give a lot, and over-deliver on expectations. With this heat, businesses grow in a rapid and smart way.
Currently, I am fascinated by smart cities and their utility systems. With WATERLOO.io, we're taking a fresh approach to the water business and digitize that sector in a smart way . Stay tuned!
In addition, I am regularly invited to speak on entrepreneurship and to hold workshops on entrepreneurship and digitization. Feel free to contact me at rudolf.ball@symvaro.com.
My specialties:
Digitize the water sector
Growing ideas into sustainable businesses
Creating highly saleable software
Transforming "old-world problems" into state-of-the-art software solutions
Instilling teams with vision, passion and energy
Inspiring people with how the world is changing through memorable talks
Giving 100% of my passion to everything I do